It's no secret that I frequent the Urban website several times a week to check the new stock, and I won't lie to you, some of the stuff they sell is whack. Their prices can sometimes be a bit much too, I'm not going to pay them over twenty dollars for a t-shirt that is uninspiring and cheap. In any case, I was rather torn when I saw
this little gem
a week or so ago: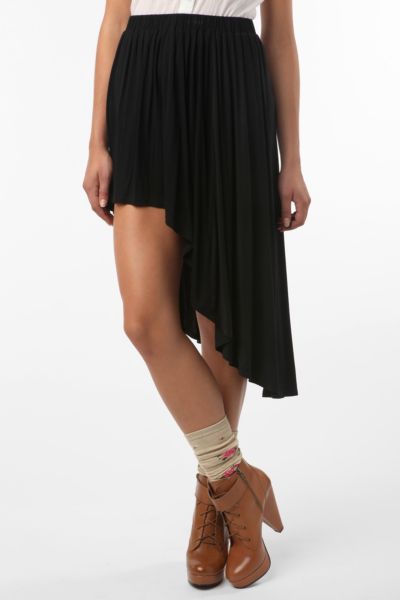 I couldn't even add it to my wishlist because I was so torn about my feelings. It seems kind of stupid for it to be short on just that one side, no? From the right, she looks like she's in a mini, from the left, some sort of awkward midi, and from the front, she looks like she went about shortening a skirt but got bored halfway through. So what's the deal?
The cut on this one is rather less dramatic and therefore more wearable/less silly. Props to the folks at
Old Hollywood
, by the way; the styling here is tres chic. And at this point I was intrigued, and went on a hunt for more.
This style
is rather more dramatic, but I actually really like it with the leggings. I think it veers away from that awful skirt/short dress with leggings trend that happened a bit ago (Note: a tunic and leggings is fine in my opinion, just don't ruin a good skirt/dress with them) to something a little cooler and edgier. Plus I wouldn't feel like I was about to expose my hoo-hoo. But uh, it's about 400 bucks on sale. Yep.
However, I think I like
Chloe's take
on the traditional schoolgirl skirt the best of all. A little bit of an unexpected shape with a very traditional plaid, and I love the belt detail on the side. I can already envision it with a soft, off white sweater, patterned black tights, and my Fryes. Alas, it isn't even in the stratosphere of a college budget. But a girl can dream!